Tobacco control expert, Director of Counterfactual Consulting Limited, with his blog The counterfactual Clive Bates is an international authority in the fight against misinformation on vaping and Tobacco Harm Reduction.
Catania Conversation contacted Mr Bates to discuss the state of THR in the United States, which has recently seen a new surge in the numbers of smokers during 2020 after a period of increasing decline in the consumption of conventional cigarettes. A restrictive regulation on smoke-free products, an aggressive media campaign against it, together with unreasonable bias by lawmakers inflicted a huge blow on the opportunities given by those products. While the new President of the United States, Joe Biden, recently inaugurated a new approach on Harm Reduction and reduced risk devices, the country still has a long way to reach a comprehensive and effective strategy.
The approach by the White House with the new POTUS Joe Biden has been slightly changed on its consideration of Harm Reduction. Is this enough to see a real difference also for THR in the U.S?

The main change in the United States will come as the Food and Drug Administration approves more vaping, heated tobacco and other smoke-free products as "appropriate to the protection of public health". We should hope that this will re-establish the competitive pressure against the cigarette trade and restore the confidence of consumers that has been lost through misinformation about risks. The Biden administration appears open to rules that would reduce nicotine in cigarettes. The theory is that this would cause smokers to quit completely or switch to safer alternatives. Whether this will ever pass is anyone's guess and what would happen if it did is far from clear. It could lead to a huge black market or people switching to other combustible products. Whatever happens, it is essential to have a wide range of attractive low-risk alternatives to smoking available to America's 34 million smokers well before any rule comes into effect. Safer alternatives are either essential to the successful implementation of a reduced-nicotine rule or, as I see it, they make such a rule unnecessary.

You mentioned earlier "bans on vaping could drive people to switch to combustible products". A new data projection showed a surge in the consumption of conventional cigarettes in the U.S during 2020 and the end of a period of decline in the number of smokers in the country. Is this the case?
There was a steep and increasing decline in 2017-19 and then no decline in 2020. There are likely to be three main reasons behind it. First, the impact of a false scare story about nicotine vaping causing lung injuries.The lung injury outbreak was in fact caused by a cutting agent added to illicit cannabis vapes, but it had a very negative effect on the perception of the risk of nicotine vaping. Second, from 2019 onwards there was a sustained attack on vaping via flavour bans, taxes and misinformation about harms.  Because vaping is a substitute for smoking, an attack on vaping works like support for smoking. Third, we cannot rule out the effect of the coronavirus – perhaps because people were at home they could smoke more and perhaps because it was stressful and boring they wanted to smoke more.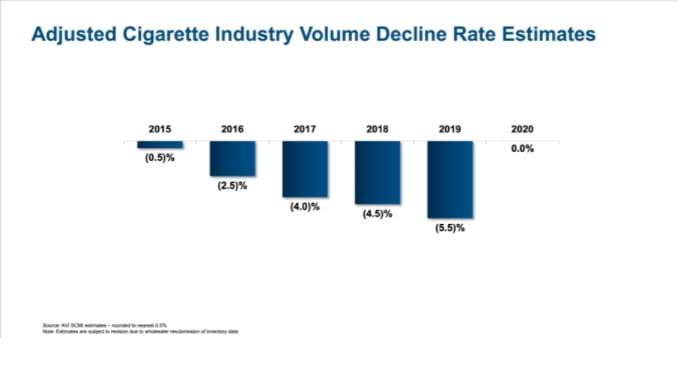 Why e-cigarette has been so hardly opposed by lawmakers in the U.S despite the scientific evidence emphasising minor risks for health compared to conventional cigarettes?
We saw a surge in e-cigarette sales in the second half of the last decade that drove down cigarette sales. This technology 'insurgency' was led by the innovative Juul product, which combines good nicotine pharmacokinetics with a compact user-friendly format that is easy to get started with. Juul was cutting deeply into the cigarette trade until a moral panic gripped America about youth use of these products. Then e-cigarettes were demonised through a huge anti-vaping campaign focused on banning e-liquid flavours and raising taxes. FDA's massively burdensome regulatory process applied further asymmetric pressure, making life hard for vaping companies and diverting their resources into compliance rather than converting smokers. Finally, there was a huge misinformation campaign that attributed extreme risks to e-cigarettes that are just not there in reality. For example, an outbreak of severe lung injuries in the United States was attributed to nicotine vaping, but the real cause was a cutting agent added to cannabis (THC) vape pens – nothing to do with nicotine vaping.

The U.S has always had a controversial history towards Tobacco Harm Reduction and, particularly, on the Ecigs as an effective tool to quit. Considering the failure of the bans and restrictive policies observed so far, what should be the best practices policymakers in Washington should follow to achieve an effective anti-smoking policy?
FDA uses a hugely burdensome case-by-case assessment and authorisation process. This involves exhaustive documentation of thousands of nearly identical products and is so demanding that it conveys huge advantages to the biggest companies. The right approach to tax regulation should be 'risk proportionate' regulation, using standards and generalised findings about the risk of the different product categories to provide consumer protection. This means being much tougher with the high-risk combustible products and focusing on necessary consumer protections for the low-risk products. For example, high taxes on cigarettes and low or no taxes on e-cigarettes. Bans on cigarette advertising, but controls on themes and placement of e-cigarette advertisements. Graphic health warnings on cigarette packs, but more nuanced messages encouraging switching on e-cigarettes packaging. Regulation and tax policy should encourage migration from high-risk to low-risk products and encourage innovation in the low-risk products, so that the incentive to switch strengthens over time.